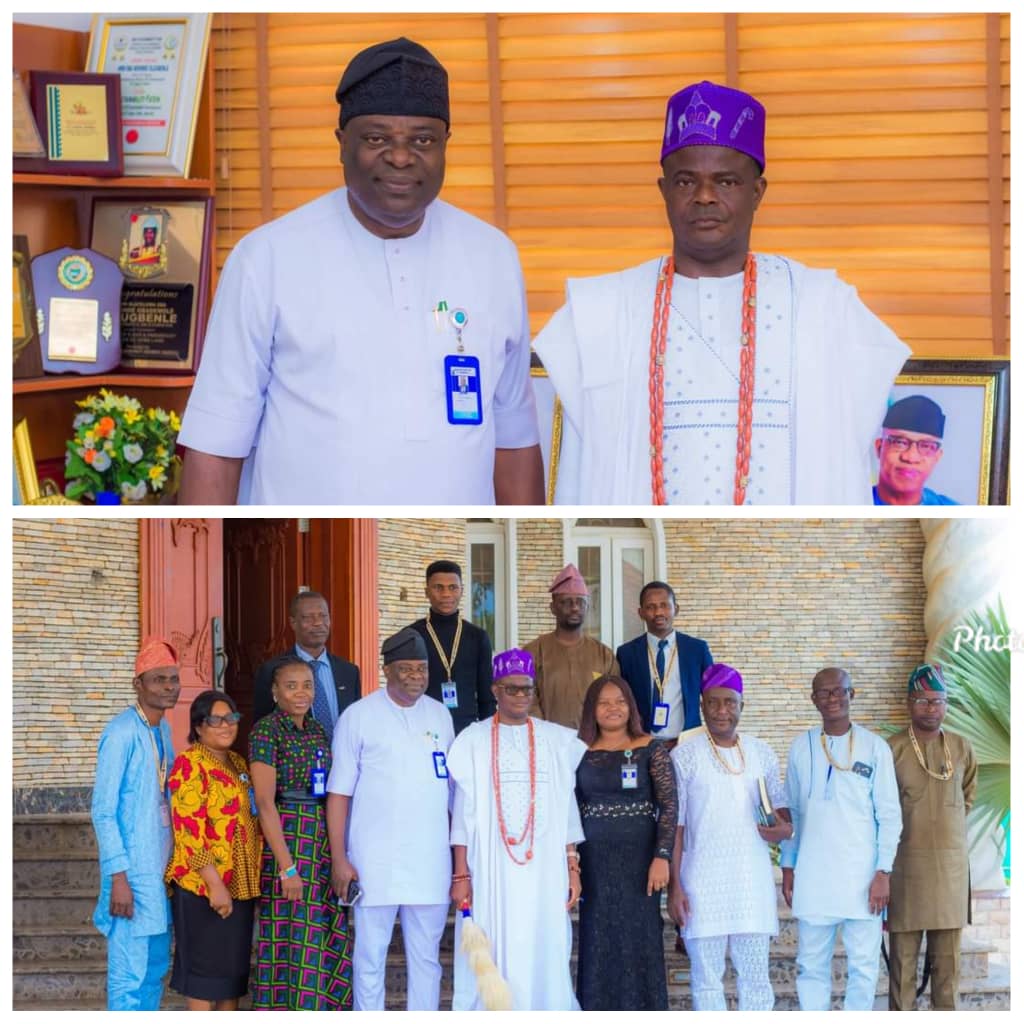 By Adetokunbo FAKEYE
Nigeria, Ogun State – The Olu of Ilaro-Yewa and Paramount ruler of Yewaland, Oba (Dr.) Kehinde Gbadewole Olugbenle, CON, in a harmonious display of unity and shared commitment to development, on Wednesday, 20th September, 2023
blessed the Management team of the Ogun State Institute of Technology, Igbesa, led by the Rector, Dr. Abiodun Babatunde Oluseye, who paid him a courtesy visit in his palace.

The visitation was marked by warm greetings and heartfelt discussions on the future of OGITECH and the role of the people of Ogun West Senatorial District in advancing the institution's initiatives.

Dr. Abiodun, who is a son of the soil in Ilaro, underscored the importance of collective efforts to support the new administration in achieving its developmental goals.

He particularly emphasized the need for the Institute to engage and encourage the people of Ogun west to contribute to its growth.

In his response, Oba Olugbenle warmly welcomed the OGITECH Management team and congratulated the new Rector, Dr. Abiodun Oluseye, on his appointment.

The revered king expressed his confidence in Dr. Abiodun's leadership and vision for development.

Drawing from the past success of the institution, he stressed the importance of teamwork in achieving progress and advised the Management to be prepared for challenges, assuring them of his support in advocacy with senators and relevant offices.

Furthermore, Kabiyesi encouraged the indigenes of Igbesa land to actively participate in the development of OGITECH, emphasizing its paramount importance to the region's growth. He also advised Dr. Abiodun to view his staff as family and maintain a harmonious working relationship.

The visit culminated with a prayer for OGITECH and its Management team, delivered by the Royal father.

The Ag. Registrar Mrs. Sakirat Olajumoke Johnson, expressed gratitude for the warm reception and support extended by the king and prayed for his continued favour and long reign on the throne, while the visit was regarded as a testament to the commitment of OGITECH's leadership to foster development and unity in the region, with the blessings and support of the royal father.
Source: Prowling eagles