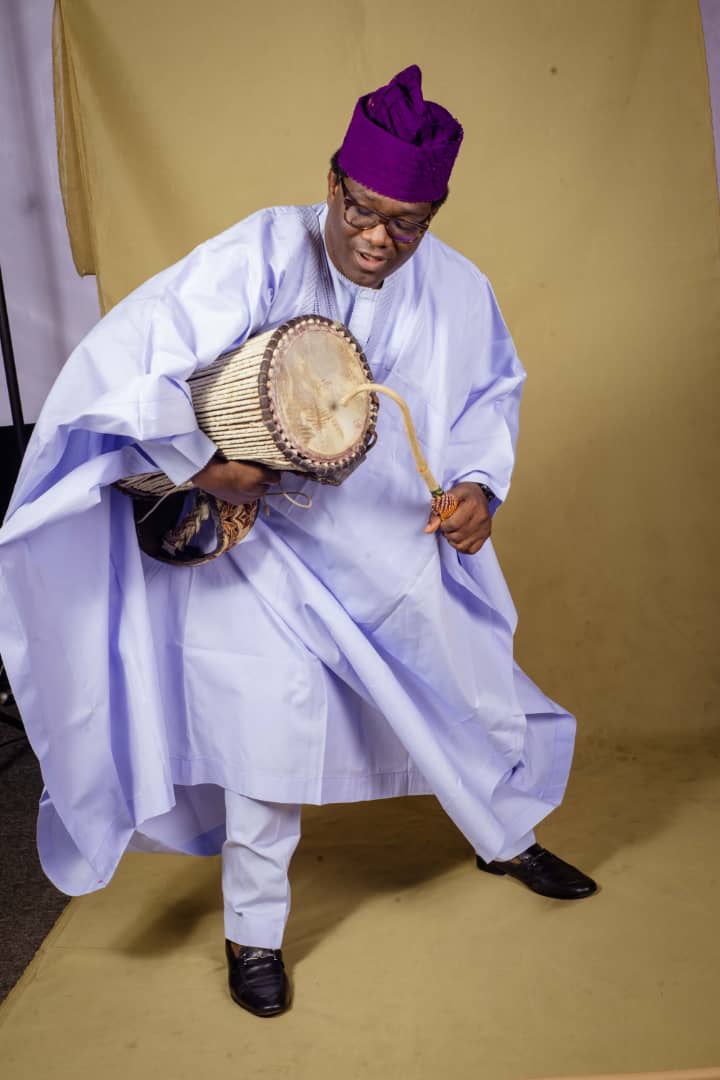 Oludare Olateju, a.k.a Sabada King, a rising Juju music star and a scion of the Emperor Wale Olateju fame has released his first album titled Ariwo Ayo. Revealing his reason for leaving the corporate world to advance his music career, the Sabaka King said that he left the cocoon of the corporate world to pursue his dream as a musician.
The music star who is also a post-graduate degree holder revealed this during an interview with MARKETING EDE.
According to the talented musician whose stage name is Ludare 1, he quit the corporate world to pursue his dream and passion for music. The fast rising Juju musician said he worked with Nucleus Marketing Company and LTC/JWT Advertising before joining Guinness Nigeria Plc in 2002 as an Assistant Brand Manager, rising to the position of Marketing Innovation Project Manager, and later became the Senior Brand Manager with a leading beverage manufacturing company in Nigeria; a job he did along with music part time. His last place of work before going into full time music was NB Plc where he was Trade Marketing Manager- Strategic Programmes.
His late father, Emperor Wale Olateju, the Sabada exponent was, one of the contemporaries of KSA & Ebenezer Obey, the 2 great music icons. At 50, Oludare who many call Ludare is set to revive his father's music and music label. For years, he has had a band called Ludare & His Music Icons. Now, Ludare 1 has become the new Sabada king. He has stepped into his father's shoes.
The son of an old juju act, Emperor Wale Olateju, is another chip off the old block, being one of Nigerian artistes who 'inherited' musical talent from their fathers. Among such are Femi and Seun Kuti, Tolu Obey and Dare Paul I.K. Dairo
While commenting on the opportunities in music marketing, he said: "The old Juju musicians are not financially educated, in terms of business management. The exposure they had was only mainstream, and that was as far as music marketing was then. Marketing for them then was to have the band, record the song and distribute them."
He continues, "In the 70s, even without phone calls you can release an album, take your record in the bus and move from state to state like a road tour. As you are doing that, you are dropping copies of your records. That was pure analog. Now things have changed and the real opportunity today is in digital marketing for musical content that you have produced.
"If you look at where music is today, you'll see that a lot has been simplified with the advancement in engineering, such that you can record a Grammy award -winning record in a small space, and the use of a computer with ease. Compare this to the days when you have to prepare for an album all year round, if there is a mistake along the line you will have to start all over".
He further said: "For those that were interested in marketing in those days, whether professional or not they achieved their objectives which were the ability to record an album, take it to the store for their fans to go pick a copy. Then, there was a popular slang which was 'grab your copy now'. But now people download. Marketing is now digital, things have changed, and everything is digitalized".
"When it comes to marketing and getting the full mass of the consumer to pick a music it's more scientific now and the 4 Ps of marketing cannot be more relevant than now for entertainment because now you will begin to talk of your product, price, promotion and place".
"The limitation of how to get your product in the market has been erased by advancement", he added.
2023 is a good and symbolic year for the Sabaka King as it is a year of triple celebration. this year, he launched his new and first album, Ariwo Ayo, commissioned the Emperor Wale Olateju House (houses 16 Octave Studio and Adebo Records) and celebrated his 50th birthday