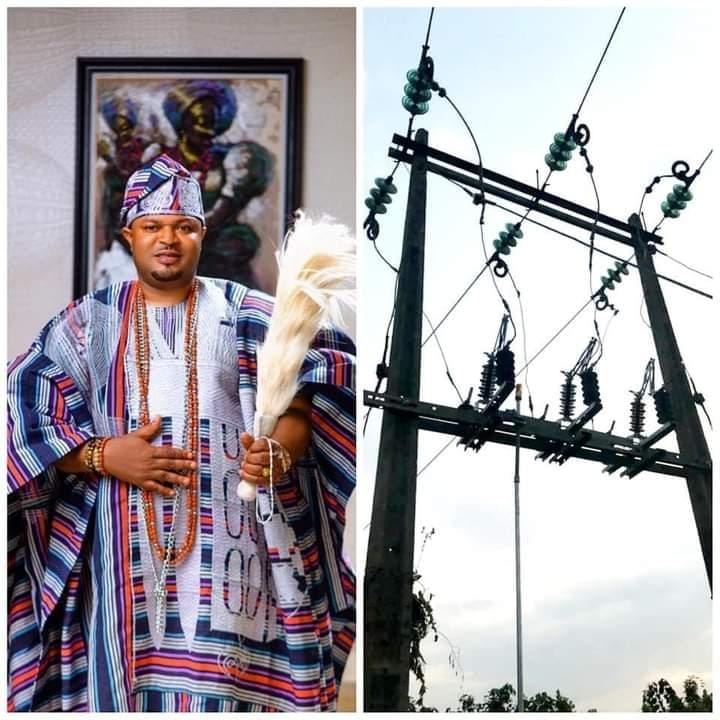 In his relentless mission of ensuring improved welfare and socioeconomic status of his people, His Royal Majesty, Alayeluwa Oba Rotimi Oluseyi Mulero, Ilufemiloba Olokojobi III, the Aboro of Ibese Land, has installed a 33KV Gangs insulator for restoration of electric power supply to communities in Ibese land.
On his ascension to the throne of his forefathers, Oba Rotimi Mulero took it upon himself to find lasting solution to the epileptic power supply that has been ravaging the socioeconomic status of Ibese land for so long, this utmost concern is what has now birth the prompt provision of these Gangs insulator. While describing the essence behind this development in a statement made available to the press, Kabiesi noted that this intervention was borne of his commitment to keep the promise he made to his people for an improved development in Ibese Land.
Recall that Alayeluwa Oba Rotimi made a pledge at the Thanksgiving service held at Holy Trinity African Church, Ibese, in commemoration of his One Year Coronation Anniversary, to ensure solution is brought to end lack of electricity supply in Ibese land, as a means of giving back to his people for the immense love and support that has been showered on him since his ascension to the throne.
The First Class monarch further stressed the need for government's intervention on provision of more basic needs in Ibese Land, "As I promised during our Thanksgiving service, I am irrevocably committed to uplifting the socioeconomic life of each and every indigene/residents of Ibese land, my decision to make provision for this Gangs insulator was borne out of my resolve to collaborate and complement the effort of the government most particularly the golden mission of Prince Dapo Abiodun's led administration to rebuild communities in Ogun State."
Kabiesi Aboro who identified some of the projects he has executed within the one year of his reign, said he has facilitated the grading of dilapidated portions of some major roads within the town and installation of Solar street lights with numerous empowerment programs. "We still have a lot in mind to do. Hence, we call on all relevant stakeholders and captain of industries within Ibese land to support this mission of bringing our people out of hardship with provisions of basic amenities that will help improve their wellbeing." Kabiesi added.
This insulator installation will henceforth enable Ibese communities enjoy improved electric power supply, Engineers from Ibadan Electric Distribution Company (IBEDC) assured while fixing.
With this new development, residents of Ibese Land has erupted in huge jubilations and prayers to register their enthusiasms and joy on the restoration of power supply by their God's sent Royal father whose giant strides has been very helpful and making life easy for all and sundry since his ascension to the throne.
Let there be light and there was light as the bible says.
Signed:
Directorate of Media and Public Affairs,
The Palace of Aboro of Ibese Land,
Ibese, Yewa North, Ogun State.
8th September, 2023