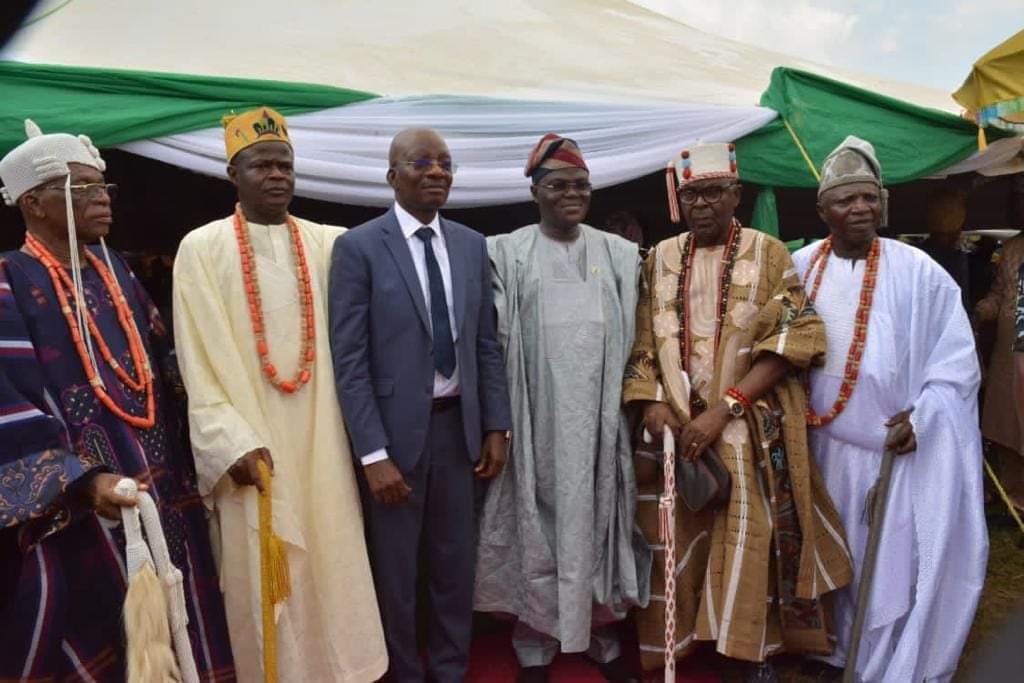 Calls for Collaborative Drive to Tackle Insecurity
The Inspector-General of Police, Ag. IGP Kayode Adeolu Egbetokun, Ph.D., NPM, addressed a grand reception in honor of prominent Yewa indigenes held in Erinja, Yewa South Local Government of Ogun State on 30th September, 2023. In his heartfelt address, he expressed gratitude for the warm reception and reflected on the significance of returning to his hometown, Erinja, in Yewa South Local Government of Ogun State. This homecoming, he noted, filled him with great joy as it allowed him to reconnect with the roots that have shaped his life. He highlighted the enduring values of love, unity, and togetherness that the Yewa land and its communities, including Ilobi and Erinja, have always cherished. He emphasized the importance of strengthening these bonds of unity as they are the bedrock of their strength and resilience as a people.
While addressing the evolving security challenges facing their communities, the IGP stressed the need for vigilance and security consciousness. He urged collaboration with the Police and other law enforcement agencies to ensure the safety and security of the people, emphasizing the role they all play in building safer communities that protect lives and property. He similarly urged the youths to discourage violence and social vices that undermine communal peace and security, calling on them to channel their energy toward productive endeavors that uplift society, recognizing their role as the future leaders of their land.
The event was witnessed by dignitaries from all walks of life including the Olu of Ilaro and Paramount ruler of Yewaland, Oba Dr Kehinde Olugbenle, and other Obas, Member of the House of Representatives, Hon Isaq Akinlade, DIG Southwest, DIG Abiodun Alabi, fdc, Head of Service of Ogun State, Mr Kolawole Fagboun, Senior Police Officers, Chairman PCRC, Mogaji Ibrahim Olaniyan, friends and well wishers. The IGP was accompanied by his wife and POWA President, Mrs Elizabeth Egbetokun, and other family members.
The Inspector-General while expressing pride in the achievements of Yewa indigenes who have excelled globally, encouraged them to consider returning home to contribute to the development of their homeland, emphasizing the untapped potential for the betterment of their communities. He also acknowledged the Governor, revered traditional rulers and elders as custodians of traditions and sources of inspiration for the younger generation, urging them to continue guiding and mentoring the youth to preserve their rich heritage and moral values.
ACP Olumuyiwa Adejobi, mnipr, mipra,
Force Public Relations Officer,
Force Headquarters,
Abuja
APPRECIATION
I wish to express my heartfelt gratitude to the Olu of Ilaro and Paramount Ruler of Yewaland, Kabiyesi Alayeluwa, HRM Oba Kehinde Gbadewole Olugbenle, MFR, the Olobi of Ilobi, HRH Oba Ajibade Saliu Adedokun, the Elerinja of Erinja, HRH Oba Ebenezer Alani, FCA, and indeed other eminent Royal Fathers across the entire Yewaland; all the elders and leaders of Yewaland; the Body of Permanent Secretaries in Ogun State, Directors and other Civil/Public Servants, and all the good people of Ilobi and Erinja communities for gracing my Homecoming Ceremony with your esteemed presence. Your distinguished presence added immense significance and joy to the occasion and it meant the world to me and my people.
While I am equally grateful for all your show of support in cash and kind, I wish to add that your presence at the ceremony not only honoured me and the good people of Ilobi/Erinja communities, but also added glamour to the event and made it truly memorable.
In the same vein, I sincerely appreciate all your congratulatory messages via phone calls, text messages and felicitations on the numerous pages of the event Programme and I take none of these kind gestures for granted.
While I wish you all long life and sound health to continue in the developmental agenda of Yewaland, please accept my warmest regards and best wishes.
Indeed, I am grateful.
Fagbohun K.P.
Head of Service, Ogun State