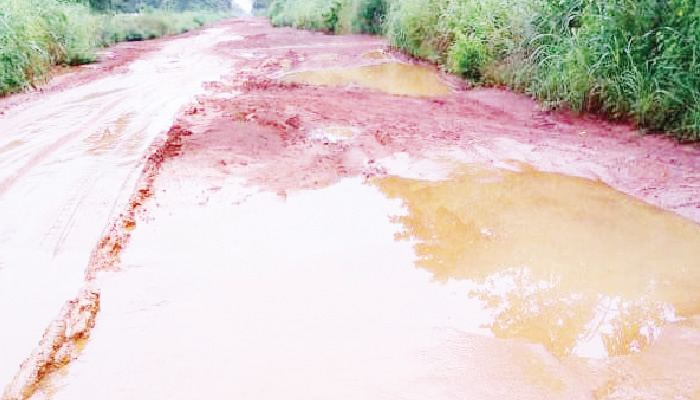 Residents of Ilara, Ijoun, Tobolo and Ilaro border communities of Ogun State have appealed to the Federal Government to help fix their road which has become deplorable over the years.
The residents who spoke with PUNCH Metro on Tuesday lamented that the 107km road which linked the Yewa North, Yewa South and Imeko-Afon Local Government Area of the state to the Republic of Benin is causing hardships for businesses and farmers in the communities.
Our correspondent who visited the communities observed that several parts of the road were in deplorable conditions as the asphalt had washed off leaving only mud on the road.
It was also observed that a few kilometres of the road was constructed in the Ilara section of the road.
It was gathered that the portion was constructed was done by the administration of a former governor of the state, Ibikunle Amosun, and since then, all other sections of the road have not received government intervention despite several appeals.
A community leader, Gbenga Adeluyi, lamented that political officeholders have failed in fulfilling their promises of fixing the road despite several promises made during electioneering while appealing to Governor Dapo Abiodun and President Bola Tinubu to come to their aid.
Adeluyi said, "The road links most of the Yewa towns such as Ilara, Ijale, Ijoun, Tata, Imoto, Idiori, Igan Alade, Egua, Igbogila, Ibese, Ilaro, Iselu, Ojaodan, Erinja, Ilobi, Ifoyintedo, Ilase, Ayetoro, Ajegunle and Idiroko among others.
"This road is spoilt beyond limit and it was a major campaign point during electioneering.
"I want to appeal to politicians who are close to the state governor and the President to plead with them to come to our aid.
A farmer in one of the communities, Dende Akesaipon, said the road has caused hardships for farmers who always experience difficulties transporting their farm produce to other parts of the state.
"It is always a bad experience plying the road. Now, it is non-motorable for passengers. The road has affected many international and local businesses; farmers couldn't get to market to sell their perishable produce. Residents of Ilara, Idofa Tobolo, Ijale-Ketu, Aworo and other areas within the jurisdiction continue to suffer.
"We are appealing to the Federal Government to please fix this road because it has caused economic disaster in our area. The road is an international road that linked Nigeria and the Benin Republic through Ilara-Yewa in Imeko-Afon," Akesaipon said.
A trader, Florence Ganiu, noted that commercial activities have also been affected because potential customers are often deterred by the state of the road.
"We have suffered because of this road. Many people that are supposed to come to our markets are not coming as expected because of the bad road," she said.